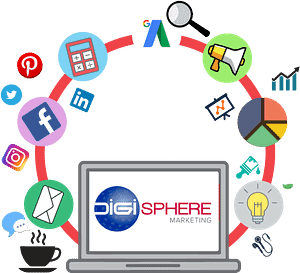 DigiSphere provides a one-stop shop for all your marketing needs. Our company provides the full range of robust digital marketing services, and through our partnerships with other aggressive industry leaders, we have a fully integrated offline and online marketing synergy available to our clients.
As a full-service digital marketing and direct mail advertising agency, we have the expertise and knowledge to help your business rise to new heights through advanced online marketing.
We stay ahead of the trends of digital advertising so that you always get the most advanced tactics and latest strategies for online marketing success.
As a full-service digital advertising company, we have a great service offering, but our internet products are also second to none!
Our in-house graphic designers and web programmers are highly-skilled and stay up to date with all of the latest advancements in both coding and design.
Please take a moment to familiarize yourself with the products that we offer below:
Digital Marketing Services
Websites – Beautiful websites that convert traffic. Conversion can be focused on ecommerce, lead generation, phone calls, or all of the above. Responsive websites are a must in today's market. With more than 60% of traffic from mobile devices, mobile first design is how we do it every time!
Pay Per Click Marketing – Google, Bing, and Yahoo AdWords. Remarketing, Display, Social Psychographic targeted marketing, and more!
Search Engine Optimization – While others charge big money for SEO services, we provide big results!
Social Media Marketing – Be seen and known and become an influencer through proper management of social media channels.
Reputation Management – Partner with a company that will make sure your reputation proceeds yourself early in the buying cycle with glowing reviews that help you land more business. But there is much more to it than just reviews!
---
Startups – From business planning and brainstorming sessions through implementation and even mergers and acquisitions.
Business Planning & Brainstorming – From initial SWOT analysis, to business plan creation, pitch deck creation, meeting acquisitions & execution, to the first steps of launching your new business.
---
Automotive Direct Mail – The automotive industry has special needs such as buy back, trade-ins, and special financing to name a few
Real Estate Direct Mail – Programs for brokers and agents to increase leads and spread the word about inventory and real estate marketing services.
---
Radio – Get aggressive with creative radio spots that generate interest and build brand awareness.
Television –  High-quality production and targeted media buys will make sure that your business is advertised in the right place at the right time.
Full Production – We produce videos of any length including beautiful drone footage, actors, and modeling talent.
Digital Marketing Services